COVID-19 Vaccination Programme
We started our Covid-19 vaccination program in January and we have been calling and texting or writing to eligible patients to offer an appointment.  Two doses of the vaccine, up to 12 weeks apart are recommended to provide protection.  We will book you in for your first appointment and contact you again nearer the time for your second.   If you have received a text from us, please click the link in the text to book your appointment at our vaccine clinic at Brocklebank Health Centre.
The vaccine is now available to anyone aged 16 and over. You no longer need a letter
You can now book your vaccination in three ways:
Please contact us and let us have your up to date contact details so that we can send you a text link to book your appointment for your vaccination at Brocklebank Health Centre
Call 119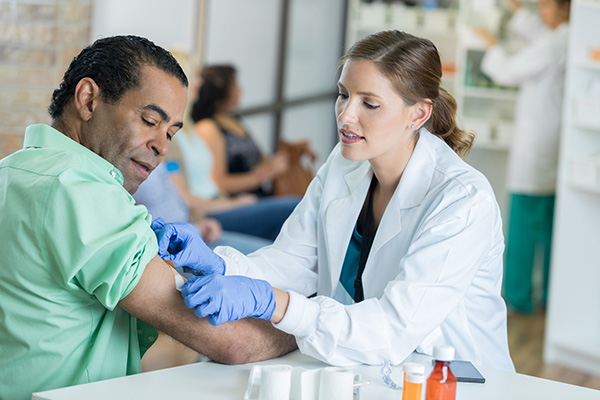 Second doses
This site follows the current national guidance on dosing intervals for second doses which states that second doses must be given at least eight weeks apart.
We are aware that there are mixed messages in the mainstream media about this which is causing some confusion for individuals, however having your second dose at least eight weeks after the first will give you the best possible protection from the delta variant.
The manufacturer recommended dose intervals were based on data at the time of the clinical trials; Public Health England and JCVI now have real world data from the billions of vaccinations given worldwide that show  a longer dosing interval between first and second doses offers individuals even more protection. This is especially important in the context of rising case rates and the delta variant.
Therefore, we won't be giving you your second dose any earlier than 8 weeks unless there is a clinical reason to do so.
Third doses for patients who are immunocompromised
The government are recommending a THIRD DOSE of COVID vaccine for patients who are immunosuppressed. If you believe you are eligible, please call our dedicated vaccine phoneline: 020 8877 7426 or complete our secure online vaccine query form. This is NOT a booster dose.  You may be offered a booster dose in addition to this third dose, at a later date.
Booster doses
Our Booster programme is now underway.  Boosters must be given at least 6 months after your second dose. We will contact you when you are eligible to have your booster dose.
NHS GUIDANCE ON THE BOOSTER VACCINE
The NHS are offering the vacccine for free! If you are asked to pay for the vaccine or asked for your Bank Account Details... It is a scam!
The NHS will never:
ask you to press a button on your keypad or send a text to confirm you want the vaccine.
ask for payment or for your bank account or card details, to pay for a vaccine or to confirm your eligibility for the vaccine.
ask you for your PIN or banking password.
arrive unannounced at your home to administer the vaccine – at the moment we are also not making house calls to deliver or discuss the vaccine.
ask you to prove your identity by sending copies of personal documents such as your passport, driving licence, bills, bank account details or pay slips.
If you receive a call you believe to be fraudulent, hang up. If you believe you have been the victim of fraud or identity theft you should report this directly to Action Fraud on 0300 123 2040.   
Published: Dec 24, 2020